Rock me Amadeus - Mozart's 250th Birthday Bash permanent link 0 comments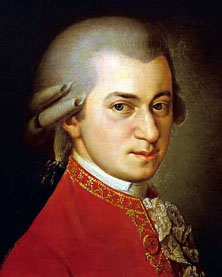 I am not a Mozart aficionado, but what can you do if your parents name you after this genius. And that is probably all we have in common, certainly not the genius musical mind. It took Mozart quite a while until he somewhat reached my ears.
I was 10 years old when the Beatles broke up and that didn't shake my world. 90 percent of my friends and aquaintances were in tears while I remember just being sad. I was listening more to the Stones, Led Zeppelin, and the Doors. Their songs were much better suited to play catchy riffs on the air guitar in front of a mirror. Heading into my late teens and early twenties, I turned into a moderate rocker. What I mean by that is that I didn't like the Carpenters nor the Heavy Metal, Iron Maiden stuff, nor any classic music. I guess you called it mainstream rock at the time or so.
I somehow never had a knack for these uber-stars. I wasn't a Michael Jackson fan either. I was and still am more of a headset guy rather than hitting a dance floor.
The headset must have been one of the reasons that got me into classical music in my late twenties, early thirties. Another reason was a gift from my brother, a ticket to a live concert with Anne-Sophie Mutter, playing Mozart in the catacombs of a nearby monestary (parts of the movie "
The Name Of The Rose
" were filmed there). The acustic was absolutly phantastic. I leaned back in my chair, closed my eyes and felt how the music gave me goose bumps.
Since then, classic music had and has a strong influence on my life. I listen to Beethoven, Mozart, Rachmaninov, Ravell, Chopin, Debussy, Wagner, and some others whenever I am all by myself, reading a book for example. One of my favorite tunes is the Adagio from Idyll Of Strings, by Leoš Janácek. But back to Wolfgang Amadeus.....
Today, the sound of the master's music is being heard around the globe. Orchestra halls and opera houses worldwide planned performances of his works. Piano students scheduled Mozart marathons and puppeteers were planning jubilee performances as hundreds of cities across five continents toasted the musical genius.
At his birthplace in Salzburg, Austria, residents say that "Mozart came with mother's milk." Mozart wrote his first symphonies before turning 10 and his first significant opera at 12. He was instrumental in changing opera into the form many of us enjoy today.
The "Wunderkind" was prolific like few others, creating at least 626 musical works despite living to only age 35. Other greats like Beethoven and Wagner publicly recognized their debt to him.
But he had plenty of detractors in his day.
Some history books depict his tenure in Salzburg ending ingloriously in 1781 with a kick in the bottom from a servant of a patron, the city's imperious archbishop, after Mozart refused to follow orders on how to compose.
Still, the town where he was born on Jan. 27, 1756, was Mozart Central on Friday.
Always a trove for Mozart kitsch, Salzburg has outdone itself. Stores are stocked with Mozart beer and wine, Mozart baby bottles, Mozart milkshakes, Mozart knickers and Mozart jigsaw puzzles — along with the usual T-shirts, calendars and coffee mugs.
Happy Birthday, Amadeus!!!!!!!!